Winter Wonderland, Blueberries and
I kicked off my 2021 wedding season with an intimate celebration in Water Valley, Alberta. Leanna and Emils were a sweet young couple who just wanted to get on with living a loving life together under current Covid-19 wedding restrictions. A traditional couple, they didn't want to live together until after they were married. A sentiment I also shared with my own husband. I love having things in common with my #etherealcouples.
It was a delight to watch a wedding full of cultural traditions! Both families originated in Europe (Ireland and Latvia) and were now witnessing the creation of a new family here in Canada.
All immigrants, like myself -although far more bilingually talented – Leanna and Emils parents all had awesome accents. Even one of the speeches needed to be translated to the bride and father-of-the-bride! I wish I had my google translate running.
Even under current Covid-19 public health restrictions, limiting wedding sizes to 10 people, this was a room filled with joy!
The venue was at the picturesque Chapel Company in Water Valley, Alberta. What a hidden treasure! It's about a 30 minute drive outside of Calgary, Alberta. A historic old chapel, no longer used for official religious services, it has been converted for events.
The chapel is perfect for an elopement or intimate wedding. The building is flooded with natural light from huge windows. The place is a photographer's dream! Wedding portraits are dreamy. So few indoor locations have this feature. This place is a must for a winter wedding venue in Alberta. No need to worry a freezing Canadian day.
Emils, the groom, arrived cool, calm and collected, looking amazing in his Navy suit. You'd never have guessed the bride and groom's families were meeting for the first time – due to Covid-19 social restrictions. Everyone happily worked together to make sure all the final preparations came together before Leanna's arrival.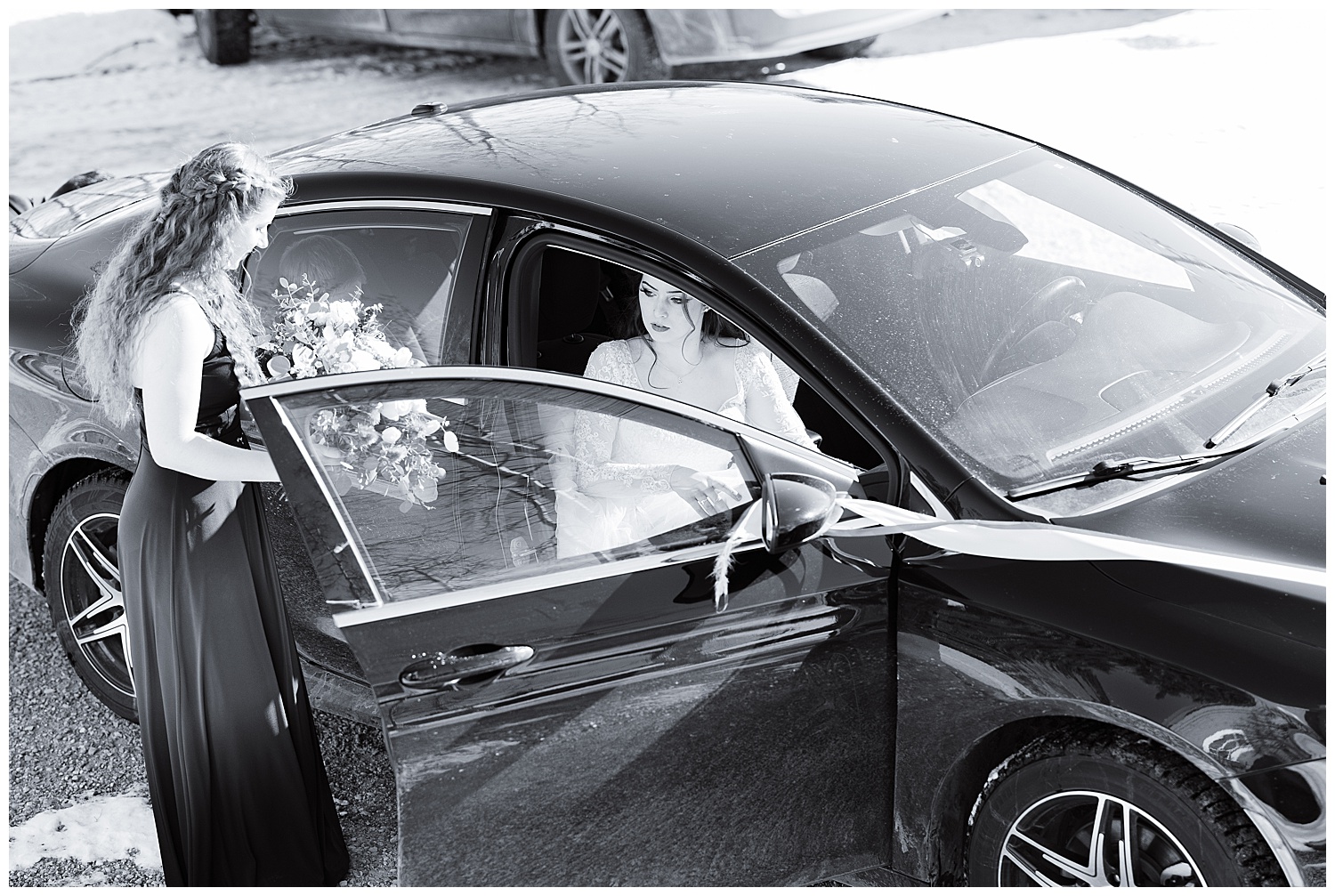 The wedding was a traditionally religious affair. It was humble and sacred. The couple were clearly close with the minister who performed ceremony. He was funny and friendly. The whole experience was short and sweet integrated with speeches and song performances. Leanna's mother and sister are amazingly talented. They uplifted and brought tears to us all with beautiful love ballards. After family congratulations, a few Latvian traditions of smashing plates and ripping open cabbages, I grabbed some great candid photos.
There was time for a gluten free/dairy free wedding cake. Emils little sister was very keen for the cake. It was her sole question throughout the whole thing, when are we eating the cake? She was endlessly cute and so well behaved.
After family formals we headed out for bridal portraits. We were so blessed with a +1 Celsius degree day! It had been -30 the week before! The Andersen Valley Ranch down the road generously gave us permission to shoot on their property. The romance of the newly married couple was full of innocent sweetness.
Thank you to Leanna and Emils for choosing me to share the special beginning of their new life together. God bless.
VENDOR LIST
Leanna's wedding dress – @davidsbridalcalgary
Emils groom's attire – @brooksbrothers_calgary
Bridesmaid dress – @oksanas_dresses
Wedding Florist – @confettiflorist
Wedding Cake – @smarty.cakes
Gold wedding bands –@shopspence
Wedding Venue – @thechapelcompany
Photography – @etherealphotographyinc
If you love her electric blue hair, I'm afraid it was her friend who did it for her! AMAZING! No hairdresser credited.
#Calgaryweddingphotographer #Airdrieweddingphotographer #davidsbridalcalgary #brooksbrotherscalgary #oksanasdresses #confettiflorist #smartcakes #spencediamonds #yycweddingphotographer #watervalleyeventschurch #etherealcouple #etherealbride #etherealgroom #kalirebeccaphotography #canberraweddingphotography #australianweddingphotographer #covid19wedding